Last week, on Thursday 5th October, BA Interior Architecture second and third year students joined the BSc Architecture and Environmental Design students for a one-day workshop lead by the BSc AED's course leader Benson Lau.
The aim of the workshop was to introduce the unmeasurable and measurable aspects of light and teach the students how to construct a solar design tool initially developed by Le Corbusier to accurately appreciate and visualise the interplay between space and light in an interior based on the latitude coordinates.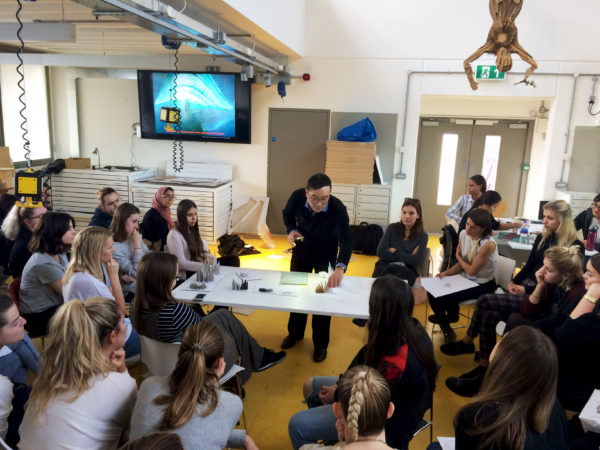 The workshop started with a lecture by Benson Lau, on the theme of "Poetics of Light in Architecture" with a focus on how to qualitatively and quantitatively visualise and selectively quantify the light dramas in architecture.
The students worked in groups of 5 to construct the Sun Roses based on the latitudes they've been given, as well as based on their understanding of the Solar Azimuth Angle and Solar Altitude of a particular latitude.The idea behind the workshop was to equip the participants with the skills that will enable them to read the sun path diagram and define the solar azimuth and solar altitude of a particular latitude on Summer Solstice (21st June), Equinox (Spring or Autumn Equinox 21st March or September) and Winter Solstice (21st December).
In addition to that, the students gained knowledge on how to conduct accurate light and shadow testing and analysis, and are now able to present the light testing results in a well-composed matrix showing the light and shadow in a selected interior on Summer Solstice, Equinox and Winter Solstice at 9:00am, 12:00pm, 15:00pm and 18:00pm.